My Hero Academia: Third Anime Movie Confirmed for Summer 2021
The My Hero Academia series will be having its third anime film— tentatively titled My Hero Academia THE MOVIE 3— with a summer 2021 release. It was confirmed on Monday.
On November 23, three accounts related to the series—the TV anime account, the anime film account, and the manga account surprised fans with a quest: each account tweeted parts of the same message, which when combined said "HE WILL MEET 'THE THREE MUSKETEERS'". These tweets also led to their website, and each contained three different visuals that teased an upcoming project—which is now confirmed to be the third movie.
【HE WILL MEhttps://t.co/38fnMWroQq#ヒロアカ #heoraca_a

— 僕のヒーローアカデミア "ヒロアカ"アニメ公式 (@heroaca_anime) November 23, 2020
ET "THE THREE MU https://t.co/JCnOFNxBY4#ヒロアカ #heroaca_a

— 『僕のヒーローアカデミア THE MOVIE ワールド ヒーローズ ミッション』公式 (@heroaca_movie) November 23, 2020
SKETEERS".】
 https://t.co/YZ6FWn3l2t
 #ヒロアカ #heroaca_a

— 僕のヒーローアカデミア公式 (@myheroacademia) November 23, 2020
Kōhei Horikoshi, who is the original creator of the manga series, will be taking over as the lead character designer and chief supervisor. Horikoshi also posted a comment and a visual on the website:
"We're now bringing you the third film! Thank you for your continued support of Deku and the others!
When we announced the second film, I made a "there will be no other films" kind of comment, but here it is. We have the support of so many people, I can't figure out which way to bow, so I stuck my head in the ground."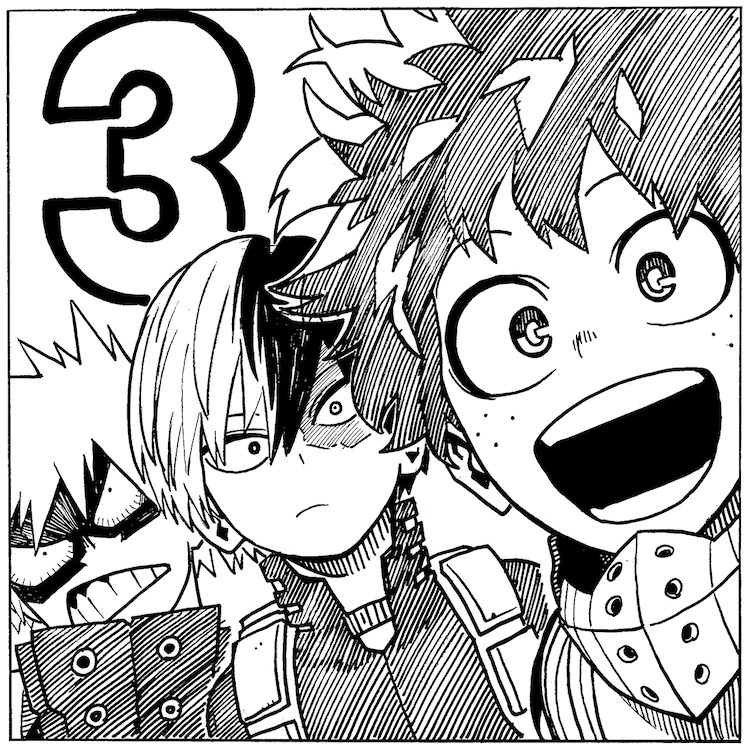 He had previously said in July 2019 that the franchise would not be having a third film, and that the second movie would be the last one for the series—this movie also used a concept that he wanted to use for the manga's final battle. In October in the manga, however, Horikoshi had said that "I can't say anything yet, but I'm drawing a lot. I should be able to announce it soon".
BONES is the animation studio for the movie, with Kenji Nagasaki as the director (for those unfamiliar, he has directed the anime series and the two movies). Scriptwriter Yosuke Kuroda, character designer Yoshihiko Umakoshi, and composer Yuki Hayashi will also be reprising their roles.
The My Hero Academia anime's fifth season is also slated to be released in spring 2021.