My Hero Academia Chapter 370 Release Date, Spoilers, and Other Details
In the most recent chapter, we see how well Deku has learned to use his quirk. Read this to learn more about My Hero Academia Chapter 370 release date, and other details.
About My Hero Academia
In a world where superpowers (called "Quirk") are prevalent, Izuku Midoriya, a boy born without superpowers, dreams of becoming a superhero. Midoriya is discovered by All Might, Japan's greatest hero, who grants him his Quirk after recognizing his potential and assists him in getting accepted into a prestigious high school for aspiring superheroes.
Read this: Naruto's Real Name Is Namikaze But Changed to Uzumaki. Here's Why!
Recap of My Hero Academia Chapter 369
The chapter begins with a flashback of a crying All For One choking the second user who is bleeding. He claims that his quirk can only control small objects, and AFO crushes a bullet coming at him from behind without touching it. AFO says that he was just an annoying insect with a minor quirk. So he doesn't understand why Deku can use it so powerfully and why he can see the Second and Yoichi's "ghosts" behind the boy. Because of One for All, the quirk known as "Gearshift" has grown stronger and can now control each cell individually. When combined with the raw strength of OFA, it creates a force capable of distorting the world's foundations. Deku then delivers a QUINTUPLE DETROIT SMASH to TomurAFO.
TomurAFO notices that Deku's last blows were not as powerful. He gets ready to block the next hit, but Deku shifts into first gear and slows down to avoid it. Danger Sense activates, and Deku sees TomurAFO coming for him, so he uses Smokescreen, jumps high with Float, and pulls TomurAFO with Black Whip. He gets ready for his next attack, which is charged with Fa Jin that he stored with the Quintuple Detroit Smash. The second user states that TomurAFO should be afraid of "will" rather than quirks. Deku recalls Banjo's promise that he would be the one to finish One for All and yells that he will finish it once and for all so that AFO will not harm anyone else.
The punch was so powerful that it pierced TomurAFO's chest. Yoichi says he can see his brother inside and that what Mirio said is true. Which is that this long fight is affecting the fusion between All for One and Shigaraki. He says that the real deal begins now, that he must remember Shimura's words, and that he must not pass out. All for One begins an internal monologue in which he complains that it's unfair because he hasn't been able to use any quirk to demonstrate how strong his new body is. Everything worked against him: Erasure, the flying U.A, the villains' division. This is when AFO screams and nine lights that resemble the OFA lights appear next to him. Deku appears perplexed, and Aizawa wonders if he still has something up his sleeve.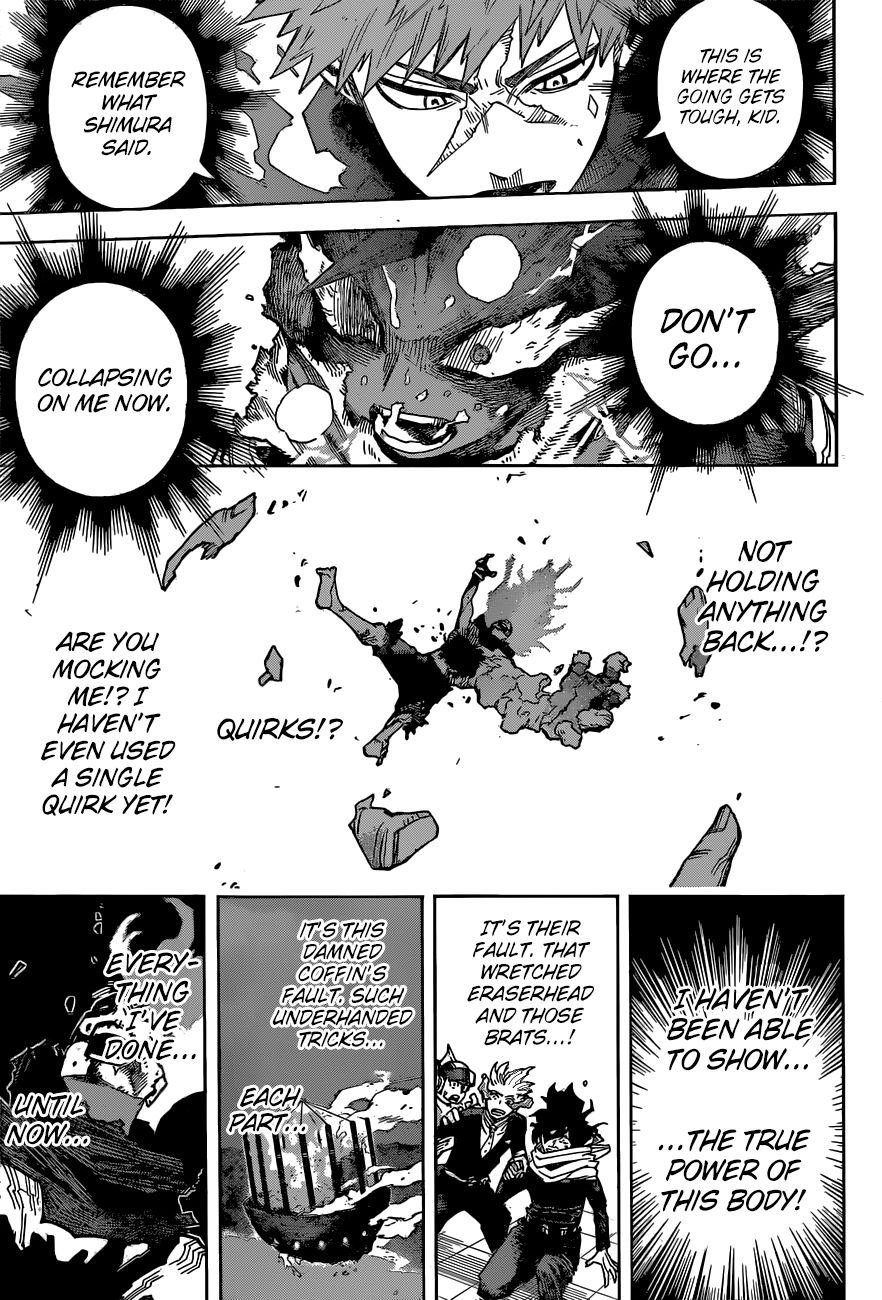 AFO then concludes his internal monologue by agreeing with Yoichi, saying that if all of his efforts over the year are going to define the outcome of this battle, he still has a chance to win. The last panel cuts to an enormous, drooling Spinner.
My Hero Academia Chapter 370 Spoilers
There is no spoiler for My Hero Academia chapter 370 yet. 
My Hero Academia 370 will center on All For One and his desperate attempt to triumph over the Heroes. As fans are aware, All For One was already losing strength in Shigaraki's body. Consequently, he is likely to become even weaker as the battle continues. Fans witnessed him transform into yet another form near the end of the previous chapter. He appears to be more muscular now, but he also appears to have even less control over himself.
The next chapter will most certainly focus on his newfound power. After being overwhelmed in the previous two chapters, it may be time for him to strike back. It's entirely possible for All For One to gain the upper hand and eventually hit Deku as well.
Read this: Guess We'll Never Know Why Kakashi Always Wears A Mask
Release Date of My Hero Academia Chapter 370
According to sources, the release of My Hero Academia Chapter 370 has been stalled for next week and is likely scheduled to be released on Sunday, October 23, 2022.
Where to read
You can read all of My Hero Academia's chapters on websites like Viz Media and MangaPlus. However, you need to purchase a monthly membership to access them.