Demon Slayer: The Significance Of Hanafuda Earrings
Demon slayer has been one of the fastest rising anime in terms of popularity. Not to say that is the only thing they can boast about. With its intriguing plot and god-like animations, it is safe to say that Demon Slayer has made its mark and is here to stay in the anime community. Being a fairly recent anime, there are lots of questions and mysteries that surround this anime. One of these being the symbolism of Tanjiro's Hanafuda Earrings.
Read here:Demon Slayer: Did Doma Kill Inosuke's Mother and Shinobu's Sister?
What are Hanafuda Earrings?
They are a piece of earrings that have been traditionally passed down through generations. It has a red circle at the top with several lines that extend from it in different directions. Under this, is a large greyish Semi-Circle.
Hanafuda refers to the playing cards known as " Flower Cards" that was found in Japan. However, this particular was not found amongst the official designs of the Flower Cards so some people believe that it is meant to represent a rising sun.
Importance of The Earrings:
We have been told that earrings are a part of Tanjiro's family. Tanjiro's father sported the earrings and so did those that came before him. They symbolise the clan of the Breath of The Sun users. The very first Sun Breathing Style fighter, Yoriichi Tsugikuni also wore these same earrings as a mark of this clan.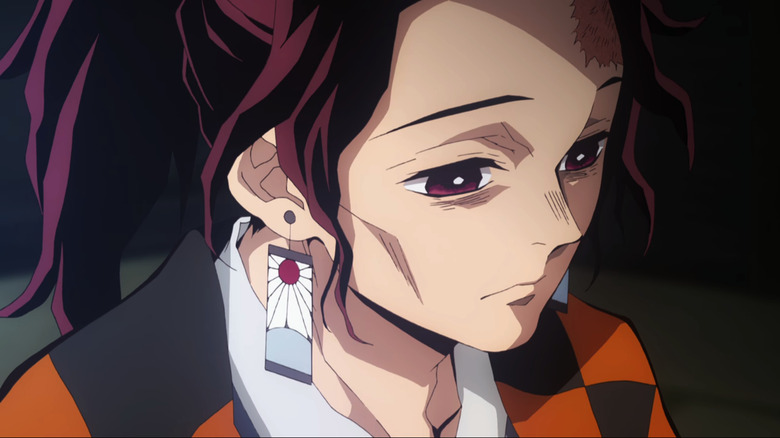 Controversy:
The Earrings actually caused unrest and controversy. People felt that the 'Rising Sun' design was a reference to the Imperial Japanese Military from the Second World War. For obvious reasons this did not sit right with people and the earrings got changed or censored in different countries.
Read here: Demon Slayer: Shinobu Kocho Abilities Explained
Where to Watch Demon Slayer Season 2 Episode 13? 
You can watch Demon Slayer Season 2 on sites such  as                      Crunchyroll, Netflix, Funimation, Hulu, VRV and Wakanim.