Classroom Of The Elite II Episode 13 Release Date, Preview, and Other Details
Fans were extremely satisfied and happy with the content of the previous episode! Read this to find out more about Classroom Of The Elite II Episode 13  the release date and other details.
About Classroom Of The Elite II
Koudo Ikusei Senior High School is a well-known, prestigious school with state-of-the-art facilities. The majority of its students go to college or get jobs after graduation. Although Koudo Ikusei seems like a utopia, only the brightest kids are treated well there. The D-class is where the school sends its "inferior" students so that they can be ridiculed.
Ayanokouji Kiyotaka is a shy and reserved boy with unmatched intelligence in the D-class. He was placed there as he wasn't careful enough on his entrance exam. When Kiyotaka meets two other students in his class, Horikita Suzune and Kushida Kikyou, things get better for him.
Read this: Edens Zero Chapter 209 Release Date, Spoilers, and Other Details
Classroom Of The Elite II Episode 12 Recap
Ryuen keeps torturing Karuizawa and claims that she has been abandoned. But she continues to protect Ayanokoji and does not reveal his identity. She reflects on how much she enjoyed spending time with Ayanokoji and realizes she has no regrets about what she did. Even so, she hopes that he will come to her aid.
Ayanokoji knew what was going on with Karuizawa because he got her email before she agreed to meet Ryuen. The former approached Chibashira merely to inform her of his plans. He escorted her to the school's courtyard, where Manabu Horikita awaited her. Ayanokoji and Manabu strike a deal whereby, in return, Ayanokoji will help Suzune become a student council member.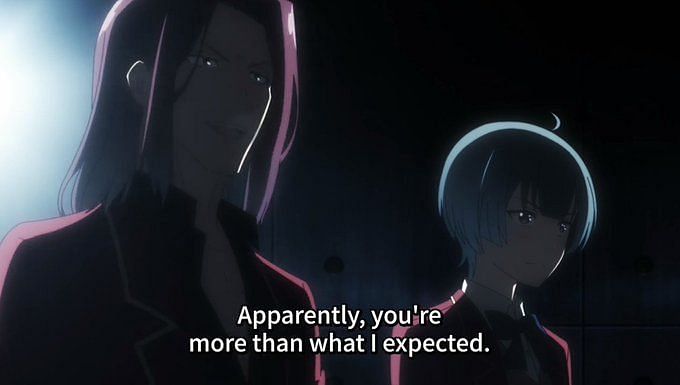 Ayanokoji eventually shows up and claims to be the mastermind. Ryuen talks about how powerful violence is and how Ayanokoji will have no choice but to give in to it. Ayanokoji tells Ryuen that he planned the whole thing from the beginning, giving Ryuen the impression that he had the upper hand. Kiyotaka easily defeats Albert, Ishizaki, and Ibuki with his martial arts skills.
In the end, Ryuen takes the fight himself as none of his classmates are a match for Ayanakoji. Although Ryuen is pretty strong compared to others, he still couldn't beat Ayanakoji, who was holding back and taking it easy on him. He talks about not feeling emotions while hitting Ryuen. After knocking Ryuen out, he goes to Karuizawa and consoles her, promising to be there for her whenever she needed him.
Read this: Black Clover Chapter 339: Release Date and Expectations
Classroom Of The Elite II Episode 13 Preview/Spoilers
The last episode showed that Kiyotaka Ayanokouji is not only great at mind games, but he can also take down people twice his size in a matter of seconds. As anticipated, Kiyotaka successfully saved Karuizawa from Ryuuen and his followers. But things are yet to be sorted.
We can expect that Classroom of the Elite will provide a fitting conclusion to the season. However, fans should brace themselves for major suspense. After all, what is a season's end without a massive cliffhanger?
Read this: Eleceed Chapter 213 Release Date, Spoilers, and Other Details
Classroom Of The Elite II Episode 13 Release Date
Classroom of the Elite II Episode 13 will be released on Monday, September 26, 2022, at 9 pm JST. The English dubbed version will be released on September 27, 2022, Tuesday, at 3:00 AM PST.
Where To Watch
The anime is available for streaming on Crunchyroll and Funimation. These websites, however, charge a monthly subscription and are not available for free. Furthermore, Funimation is not available in all countries.